Bralettes & Sexy Bra and Panty Sets atLABEShops
---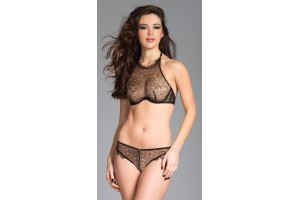 Bralettes and Bras for Women support while making you oh so sexy!
Womens Bras are more than just something to support a women's breasts - they can make you feel beautiful even under the most boring of clothing. No matter what your daily uniform or dress code, a sexy brassiere or a sensual bra and matching panty make you feel totally sexy!
Bralettes are often all you need with no padding. Our gorgeous collection of bralettes let you be free and comfortable lounging at home or out and about. They are beautiful, sexy, and comfortable when you just want to let you be you.

Of course, a bra that fits properly is key to one that not only is sexy, but does support you making your outer clothing look it's best. We include a complete guide to measuring yourself for a bra as well as describing various types of bras.

Whatever style of bra you prefer - underwire bra, bras with padded cups, strapless bras, lace lounging bras, bralettes, no padding bralettes, leather bras, demi-cup bras, or even cupless bras, you will find it in this section. Many styles come with matching panties, garter belts or skirts.
---
---
Showing 1 to 2 of 2 (1 Pages)