Hats, Headbands & Crowns atLABEShops
In This Category:
---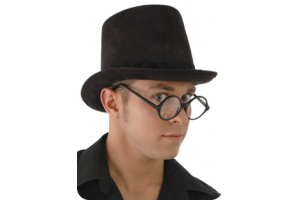 Are you ready to elevate your costume and fashion game? Our collection of hats, headbands, and tiaras is here to help you make a statement. Whether you're attending a formal event or looking to add some playful flair to your costume, we have the perfect accessory for you.
Let's start with our top hats. These timeless classics exude elegance and sophistication, making them a must-have for any formal occasion. Whether it's a wedding, a gala, or a stylish party, our top hats will elevate your look and make you stand out from the crowd.

If you're a fan of retro-futuristic fashion, our steampunk accessories are just what you need. Add a touch of vintage charm and industrial style to your outfit with gears, goggles, and other steampunk-inspired elements. Embrace the unique and turn heads wherever you go.

For those who want to channel their inner feline, we offer a range of cat ears that are both cute and fashionable. Whether you're attending a costume party or simply want to add a playful touch to your everyday style, our cat ears will help you achieve that purrfect look.

Arr, matey! If you're ready to embark on a swashbuckling adventure, our pirate hats are calling your name. From classic tricorn hats to more elaborate captain hats, we have the perfect headwear to make you feel like a true buccaneer. So, hoist the anchor and set sail with style!

Take care of your hats, headbands, and tiaras by following the care instructions provided with each product. With proper care, they will continue to add flair to your outfits for years to come.

---
---
Showing 1 to 4 of 4 (1 Pages)