Overbust Corsets at LABEShops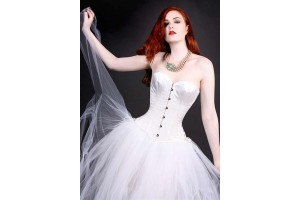 These corsets are full tops coming over the bust with lace up backs in beautiful fabrics from silk to leather. They are boned for shaping, though only the steel boned styles are recommended for heavy use such as body modification or corset training.
When picking the perfect corset, think about how long you want to wear it, how tight you want to cinch it, and how you want to move in it. Lighter boned corsets offer more freedom of movement, though they are often single layers of fabric that can tear if laced too tightly, however they are much lower cost and perfect to wear under another top or a jacket for occasional use.
Our steel boned corsets on the other hand are premium quality with multiple, laminated layers of fabric for greater strength and stabilty. These are the corsets that will last you a lifetime and can be used for body modification or tight lacing. They can also be worn under another top or a jacket, but are so beautiful, you will not want to hide them.
---
We are in the process of updating all inventory - please check back soon.