Tasha Terracotta Drum with Leather Skin Need a drum for meditation or a drum circle? This 12 inch Tasha Drum is the perfect size for home or travel with a rich sound.
Hand Made in India
Genuine Leather Skin
Size: 12 Inches
Terracotta Clay
Stand Sold Separately
---
---
Tasha Terracotta Drum with Leather Skin by India Arts
Hand made terracotta Tasha drum is 12 inches in diameter and about 4 inches high. It has a stretched leather skin and produces a pleasant tone when struck with the hand or a small mallet. The terracotta has a natural, rough finish. Hold in in your hand, sit on your lap, or use a stand (sold separately).
Drums are used in many spiritual practices to drive away evil spirits. Great for meditation and the small size makes it a great travel piece for your next drumming circle.

Item Number:
IA-MU102 |
Approximate Size (Inches):
12.00 wide x 12.00 deep x 4.50 high |
Approximate Shipping Weight:
2.00 lbs.
Recommended accessories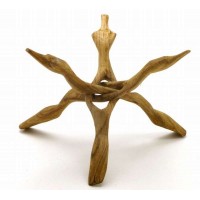 Perfect for drums, bowls, and more. About 12 inches long, the three legs..
$10.50
---
Perfect for drums, bowls, crystal balls and more. About 10 inches long, ..
$8.50
---