Lace Trimmed Satin Garter Belt This satin garter belt has wide lace trim and comes in regular or queen size and several great colors.
Satin Garter Belt with Lace
Colors: Red, Black or White
Sizes: One Size or Queen
---
---
Lace Trimmed Satin Garter Belt by
Elegant Moments Lingerie, Leather and Costumes
Satin garter belt in one size or queen has adjustable garters and back closure. One size or Queen in black, red or white.

Other items shown sold separately.
Item Number:
EM-1948-X |
Approximate Size (Inches):
8.00 wide x 0.25 deep x 10.00 high |
Approximate Shipping Weight:
0.50 lbs.
Goes Great With...
Pack of 3 of the same size and color. One size or queen. ..
$12.50
---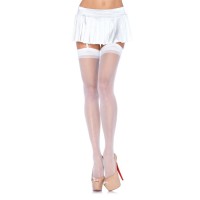 Sexy sheer garter stockings come in a pack of 3 of the same color so you wi..
$23.95
---
Vintage style garter stockings in black and red or pink have a back seam an..
$40.00
---
Simply elegant black or white sheer stockings are accented with a big satin..
$9.00
---