Prince Charming Adult Mens Costume
Product Code: IC-1054-Q5026
Ships In* 2 - 5 Business Days + 2 - 4 Days Delivery in US
More Inventory Expected: Sept. 23, 2016
Brand: InCharacter Costumes
---

Shipping on orders of $75 or more is FREE within the US.

To see shipping costs outside the US or for orders under $75, add this item to your cart, view the cart and select "See Shipping Costs"
---
Prince costume for men is straight out of a fairytale storybook or Once Upon a Time
Military style jacket with attached epaulets, slacks, jacquard sash, military belt and medal.
Packaged in a full length zippered garment bag with color photo insert.
Recommended accessories
Full-length satin and brocade ball gown with attached peplum, petticoat,..
$92.00
---
Full-length long sleeve gown with attached peplum and sweeping hem; pettico..
$145.00
---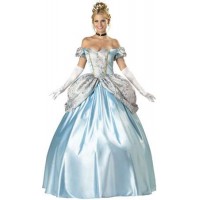 Would also be a lovely Firefly Shindig or other formal occasion, this blue ..
$198.00
---
*Shipping and Delivery Time:
Shows the standard processing time for this item to leave the warehouse + the average delivery time for deliveries within the United States via Standard or Free Shipping (see International Delivery information below).

Note: This is the average time and is subject to availability, seasonal sales volume, and other potential, unforeseen delays. If you must have an item by a specific date, be sure to include that date in your cart comments when checking out.
Delivery Options
US Standard Shipping
Ships from the manufacturer in California to our warehouse in Florida. Ships to you US Priority Mail usually within 5-10 business days. Average transit time: 2-4 business days.
US Express Shipping
Ships from the manufacturer in California to our warehouse in Florida. Ships to you US Express Mail usually within 3 business days. Average transit time: 1-2 business days.
International Delivery
Ships from manufacturer in California to our warehouse in Florida (4 days) then to you via US Priority Mail. Delivery times vary depending on destination country and customs - average 10 days. Express shipping is available to some countries - contact us for details.
PO Box/APO/Military Delivery
Ships from manufacturer in California to our warehouse in Florida (4 days) then to you via US Priority Mail. Delivery times vary depending on destination country and customs - average 5 days. Express shipping is available - contact us for details.
Return Information
This item CAN be returned or exchanged. You can exchange it for a different size, color, or item, or return it. We offer cash refund (less shipping charge), as well as store credit for your purchase price plus an additional 10% (store credit can be applied to any future order from any of our <a href="http://www.labeshops.com/labeshops-stores" target="_blank">online stores</a>). See details on <a href="/request-return" target="_blank">returns and exchanges</a>.
Other Information
Note this manufacturer often sells out for Halloween - we recommend you order early! <br/><br/> We try our best to keep items updated as to what styles and sizes are out of stock, but this is subject to change without notice. Orders are held and not charged until availability is confirmed.
Country of Origin
Origin
Made in China
Other Items with Tag: fairytale, historic, plus size, storybook, warrior