Prince Charming Adult Mens Costume Prince costume for men is straight out of a fairytale storybook or Once Upon a Time
Prince Charming Adult Mens Costume by InCharacter Costumes
Military style jacket with attached epaulets, slacks, jacquard sash, military belt and medal.
Packaged in a full length zippered garment bag with color photo insert.
Item Number:
IC-1054-Q5026 |
Approximate Size (Inches):
22.00 wide x 6.00 deep x 35.00 high |
Approximate Shipping Weight:
2.00 lbs.
Recommended accessories
This Evil Queen is wicked, but beautiful! Full-length long sleeve gown with..
$145.00
---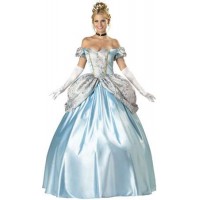 Would also be a lovely Firefly Shindig or other formal occasion, this blue ..
$198.00
---